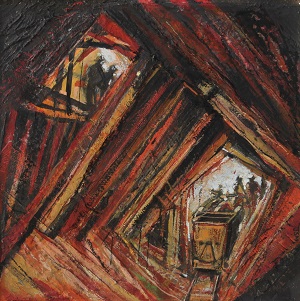 Below Grass
John was born in Hucknall, Nottinghamshire a coal mining village that then had four working pits. His grandfather had been a coal miner locally.
John's first recollection of Cornish mining was in the early 1950's seeing a newsreel at the cinema - in the days before they were called documentaries. The one thing that stuck in his mind from that newsreel was an intriguing reference to mining beneath the sea. While studying painting at the Nottingham College of Art in 1961, John made the first of many visits to West Cornwall's mining district.
John was initially reluctant to depict underground mining imagery. But as a result of his contacts with ex miners and surveyors he made his first of many visits underground in 2000. His first exhibition 'Below Grass' was the result in 2001. This was at a National Trust gallery at Botallack where John had been working on mining interpretation imagery for the NT.
A second exhibition quickly followed. John thought that the subject might have appeared somewhat dark and dreary, but mining by then was becoming very much part of National industrial heritage. Men, rocks and wood are suffused with reds, ochres and umber. Cramped claustrophobic spaces contrasting with deep black voids are highlighted with flashes of the brightest light giving John's paintings a sense of drama.
A recent exhibition titled 'Above & Below' was held in 2013. The exhibition was held at the Geevor Tin Mine Gallery in West Cornwall. John's paintings and drawings of underground mining now span a 50 year period. The exhibition was held in conjunction with a Graham Sutherland exhibition at the Penlee House Gallery in Penzance. Sutherland worked as a war artist at Geevor in the early 1940's.
Interest in John's minimg imagery spread to the coal mining region of the North East of England, where in 2015 he held an exhibition of work to coinside with the Durham Miners Gala.